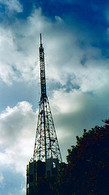 I use my DAB radio every day.
And I just bought another one, for my workshop.
So I must be a fan. 
Or at least not a detractor.
And when it first came in, I was extremely pleased because it promised to be the first digital technology since CD that was actually better than its analogue competitors and not just marketing bollocks.
That was in the good old days when 250kbit/s data rates were on the cards.
Things got a little shaky when just under 200kbit/s was offered which, on the MP2 codecs used by DAB, meant audio quality was just a little bit worse than FM.
Not a problem for me, as my radio dial has atrophied in the Radio 4 position.
But a poor show for music lovers.
Now DAB has degraded to just another minimum-acceptable-quality medium where channel-count is all that matters.
Disappointing, but quality is not the thing that is most distressing me about DAB at the moment.
My problem is that, and you can probably guess the next bit, the Government want to switch all national broadcast radio over to DAB by 2015 – as introduced in the Digital Britain report.
In 2015, the Government is expecting me to discard all the FM radios that I use in my house – I use 4 of these regularly, even with the new DAB receiver – and replace them with something that will be several tens of pounds per unit, and will need to be plugged in, frequently recharged, or often fed with batteries.
Now, I hope DAB radios will come down to a few quid, but with the 2015 deadline looming and a captive audience, will set makers have any reason to drop prices?
And will power consumption ever be low enough for a DAC bathroom radio to run for months on two AA alkalines?
Plus, the MP2 codec required by DAB is pathetic compared with even MP3 compression, let alone AAC. For the record, Digital Britain leaves all options open on the coding scheme
So only an idiot would mandate the MP2 codec for 2015 as AAC offers something like 4 times the quality – or more likely four times the number of channels.
Sadly, if all DAB channels were switched to a newer codec a large number of existing DAB radios could not cope – neither of mine could.
The minor good news at this point is that if your DAB radio has a USB socket, it is likely to be upgradeable.
If the switchover has to happen, a useful compromise would be to leave existing DAB stations with MP2 coding for a long time, and make the channels moving over from FM go direct to a more bandwidth-efficient scheme.
Check out http://www.savefm.org/ for more information, or http://www.digitalradiotech.co.uk/ if you want a proper tirade.
'Alice'
Respond below, or to alice@electronicsweekly.com
(Picture – Alexandra Palace mast by Redvers under Creative Commons Attribution Licence)