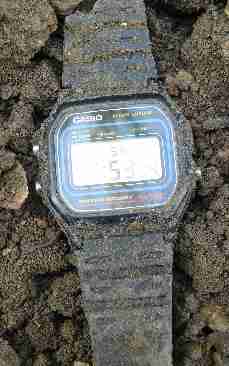 Some while ago I confessed to being a fan of the Casio W-59 watch.
And by a complete coincidence, or a yet-to-be understood facet of quantum mechanics, I dug one up in the garden the other day.
The strap is broken, but otherwise it seems to be functioning perfectly, despite being buried for the four years I have owned the house, and heaven knows how long before that.
The photo shows it after I wiped the face. Any lack of display clarity is down to my photographic technique.
Another Brownie point to Casio for its best ever watch IMHO
And half a point to the previous owner for his excellent taste in watches – This would have been a whole point if his DIY ability had been anywhere near his DIY confidence.
'Alice'
reply below, or to alice@electronicsweekly.com