For the record, others use a potentiometer, and some after-market versions calculate the gear after measuring engine revs and wheel speed.
I was googling gear indicators and came across this circuit to interface such switches to a seven segment display. 
It is classical digital approach to the problem, with three logic chips and a regulator.
There is lots of stuff on this web page – It amazes and pleases me that people are prepared to go to the trouble of putting such comprehensive information on to the web.
Anyway, I was contemplating this problem later, and it occurred to me that the whole thing could be sorted by resistor-diode logic, replacing the chips with a diode matrix that grounds the cathodes of which ever segments are needed to indicate each gear.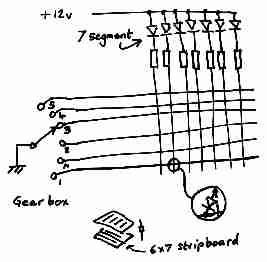 Robust diode matrices are easy to make up providing not too many diodes are involved.
For the un-initiated, all you need are cut two rectangles of Vero board and position them one above the other a diodes width apart with the strips at right angles.
Diodes can then be soldered between the two where they are needed.
Actually, it helps to solder all the diodes to one pcb before sliding the other one on.  
I am rather pleased with that idea: no chips, no regulator, not much to go wrong.
Further googling has revealed that, surprise surprise, I am not the first to have such an epiphany.
Sadly, I have no excuse to make a gear indicator because the motorcycle concerned is a friend's Honda XR250, made for off-road competition, which has no use for such fancy things as digital gear indicator, or even a neutral light.  
'Alice'
If you can answer this, respond below, or to alice@electronicsweekly.