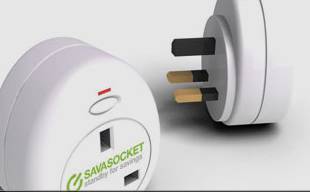 Ten out of ten to Leeds-based Energy Saving International for its gadget that cuts the power consumption of mobile phone chargers to 20mW once the phone is charged.
20mW is exactly what a mains-powered device should be consuming on stand-by, and nothing more.
It is the sort of loss that is achievable power chips from the likes of Power Integrations and CamSemi, so there is really no excuse to waste more. 
It is particularly good because, as I remember, the most stringent self-imposed phone charger industry stand-by limit is 100mW – although I cannot remember from whence I obtained this 'fact'.
The Yorkshire firm also does a smart mains multi-socket that allows several mains loads to be turned off at once – in this case by infra-red using an existing TV or DVD remote control.
For this it gets eight out of ten on the Alice Scale as its own stand-by power is 190mW – very very good, but not 20mW.
I looked at smart multi-sockets last year – the type where switching off one main load causes the socket to switch off all the other loads – and as I remember the best was rubbish – close to 1W – and others were far worse.
By the way, Energy Saving International got a grant of £2,500 from CO2Sense Yorkshire, a business support and market development programme funded by Yorkshire Forward and the European Regional Development Fund
'Alice'
Respond below, or to alice@electronicsweekly.
No email addresses are collected for marketing purposes from responses to this blog. I will keep it that way for as long as possible.