I was speaking to someone from a big heritage organisation the other day, and learned that there is a hunt for ways to cut the power consumption of chandeliers. These, apparently, were usually designed specifically for incandescent bulbs, or have been converted to them from either candles or gas. At 10 lm/W, incandescent bulbs are not very power efficient, but they weigh very little and most importantly their optical output allows the chandelier to sparkle and compact fluorescent bulb replacements have been tried, but they failed the all-important sparkle test.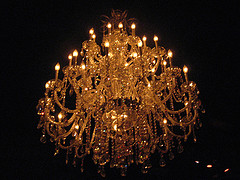 Compact fluorescent bulbs are also too heavy, and LEDs are also too blue – apparently 'flattening' colours in the room.
An alternative look at the hues and shades of LED technology
So far the best solution is halogen bulbs, which provide the necessary sparkle while cutting power consumption in half. They also weigh little and retrofit easily. It is the failure of LEDs in the sparkling department that surprises me, so I guess those tried had some form of enclosure that converted the diodes to area emitters. The too-blue problem is certainly surmountable by avoiding blue+phosphore LEDS, as the Mona Lisa is lit by a multicoloured array of LEDs in the Louvre. So it looks like there may be a niche in the market here for a retrofitable LED chandelier light source. And just for once I doubt accurate spatial colour mixing, that bane of luminair designers, would be a problem amongst all those sparkles.
If anyone has any ideas on this subject, you could make a big heritage organisation very happy. Let me know by leaving a comment via the fields below. Alice (special contributor) By the way, the title An Engineer in Wonderland was inspired by the 1967 book 'The Engineer in Wonderland' by Professor Eric Laithwaite: champion of the linear induction motor. (Picture – kimba, under Creative Commons Attribution Licence)