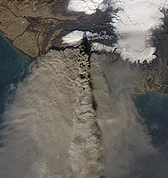 While some politicians attempt to score their pathetic points, declaring how they would have got aircraft moving more quickly without explaining how, engineers and scientists have worked hard to craft a set of rules for aircraft flying through ash plumes.
Weather modellers have checked and re-checked virtual particulate distributions.
Pilots have flown scientist and their instruments through Europe's volcanic cloud to verify the models.
Commercial airliners have gingerly penetrated the ash and returned so that engineers could hunt for damage inside the turbines.
Engine makers, aircraft makers, and airline operators have combed their records for earlier examples.
Everyone has cooperated with the regulators, and together the vast distributed team has set some new rules.
Given that the whole thing only took a week, I am pretty sure there was a lot of sweating, a few people have put their reputations on the line, some have still secretly got their fingers crossed, and others still think any ash is too much ash.
The old rules worked, it wasn't a disaster, no one died.
The new rules will allow aircraft to fly when once they could not.
Next time the MP for somewhere or Lord so-and-so says a precautionary pause should be terminated before the work have been done, let's put a pen in their hand and ask them to sign-off the permission to fly.
Let them feel the enormity of real responsibility.
'Alice'
Respond below, or to alice@electronicsweekly.
No email addresses are collected for marketing purposes from responses to this blog. I will keep it that way for as long as possible.
The photo of the Eyjafjallajokull Volcano comes from NASA's Goddard Space Flight Center via Flickr.
It is published here under Flickr's Creative Common's attribution licence, and comes from the MODIS instrument on NASA's Aqua satellite.