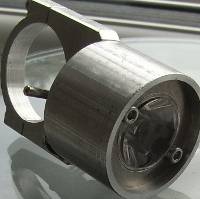 In the name of science and safety, I locked myself away in the workshop over the long weekend to produced a +/-4° LED bicycle headlamp to compare with the +/-5.5° version I made a while ago.
+/-5.5° has seemed a little wide, lighting up road-side shrubs and the road immediately in front of the bike too brightly.

Mk6a in all its glory. For scale, the lens is 18mm across and the hole is 26mm.
And it has a slightly dim spot in the middle of its beam, probably because it uses a Cree MC-E LED which has four 1mm die spaced slightly apart in a square.
The dark cross between die of this configuration can easily show up as a dim spot with collimators as they are essentially focussing an image of the die.
Therefore, I chose a single-die Cree XR-E for the +/-4° version.
So far so good, but results were not exactly as I expected.
Both LEDs deliver similar lumens – I will have to check exactly which bins are involved.
And both collimators are claimed to be over 90% efficient.
But the +/-4° beam is nothing like as bright as the +/-5.5°, beam even if its shape suits the task better.
These are the specs:
+/-4° (Mk6a)
Cree XR-E led plus Cree's own collimator which is around 18mm in diameter
+/-5.5° (Mk6)
Cree MC-E with Ledil's magnificently huge 35mm diameter Iris collimator.
My current suspicion is that the Cree collimator spills more light out at wide angles and a quick look against a white-ish wall suggests it emits significantly more light between 20 and 60° compared with the Ledil optic.
It is just possible this small leak over a large part of the hemisphere accounts for the lack of intensity at the focus.
By the way, there is no criticism of the Cree optic here. Like Lumileds, in the early days Cree had to sell some demonstration collimators alongside its power LEDs because third-party optics were far less available then.
It was never intended to be used as a headlamp, and is more suited to torches (flashlights) where you want plenty of spill.
And by the way again, I would have put some beam photos in here for your examination, but I do not have a camera without automatic exposure.
So now I have two fine, but not perfect, 'main' beams to complement my road-user-friendly anti-dazzle dip beam.
But I didn't need to make one of them.
And I need to find time to make a Mark6b.
Now which optic shall I try this time, to go with an XR-E or XP-E?
'Alice'