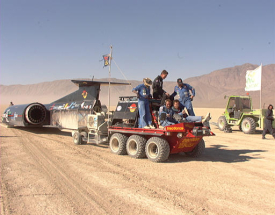 I am never going to forget those pictures of Thrust SSC with the shockwave angling back across the desert.
There is something magnificent and a little bit mad about land speed records.
A record attempt takes a lot of engineering.
Gone are the days when someone bolted a huge engine into a little tiny car and then just pointed it down a runway.
Which is a good thing in my opinion because a lot of talented people have ended up dead because they took too many chances, or didn't see enough of the potential problems.
Although it is also a shame because the ones that just got away with it are the stuff of legend – Rollie Free, for example.
And dragster driver Barry Bowles, who in the 1970s managed to loose control of the rocket-powered Blond Bombshell on Pendine Sands, allegedly exceeding the British land speed record while careering along upside down – and walking way with only a few bruises.  
No, the speeds are so high now that to avoid danger world land speed cars have to be engineering marvels.
Years ago I met the folk behind Thrust SSC and learned first hand that they were:
(a) an extraordinarily talented group of individuals and
(b) conscious of safety first in everything they did.
Aerodynamicist Ron Ayers said he initially turned down a request from Richard Noble to take part in the project because it involved high speeds close to the ground.
Then, on reflection, he asked himself this question: How fast could an inherently stable car shape go – and came up with a number that took him back to Noble.  
But there is still room for fun in land speed records if you avoid the unlimited class and stick to velocities that straightforward car technology can handle.
For example, the Bluebird Electric team had a go at the electric-powered record [LINKTO  http://www.speedace.info/bluebird_electric_2.htm], but seemed to get bogged down in arguments and I am not sure what happened to it.
And British Steam Car Challenge is hoping to capture the 100 year old steam-powered land speed record.
In 1906 the Stanley Steamer was driven to nearly 130mph, making it the fastest car of any kind at the time.
Broken once since but not within the official rules, according to BSCC, the steam record is still up for grabs.
BSCC's beautifully engineered 360HP three tonne steam turbine car is going to have a crack at 170mph in a couple of months time.
Good luck team BSCC.
'Alice'
alice@electronicsweekly.com, or comment below