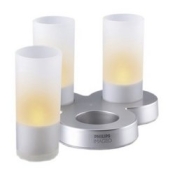 A friend showed me these amazing little things from Philips.

Basically, they are fake night-light-in-a-glasses based on LEDs. I didn't put one next to the real thing, but on their own or in bunches they flicker very realistically.
As far as I can see, there are only two small LEDs in each, plus a rechargeable battery and some kind of pseudorandom driver for the emitters.
Each is in a real glass with no holes for charging or control.
Instead, they charge inductively in a base – operate for 24 hours on a charge – and are turned on and off by tipping them sideways.
I have it on good authority that at least one ancient church is using a lot of them to get the effect of candles without the fire risk.