It is not that the team doesn't believe the specifications we are sent every day, it is just that it can be tricky to put 77dBA or 33 lm into perspective.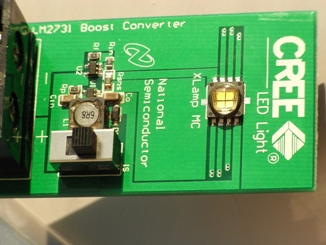 The latest items to arrive in the post are a Cree MC-E power LED development board and some matching Eva collimators from Finnish lens maker Ledil.
The specifications are on the respective web sites, but what are the devices actually like?

Well, at an unknown power input, the LED produces a huge amount of light and it is dazzling to look at even from several metres away.
As for total light output, I would say one bare MC-E per room could be used at ceiling level as a stand-by for power cuts. This would be more than enough to safely move around by.
The Eva optics produce nice even beams. Moving the lenses with respect to the LED almost never projects a trace of the dark cross between the four die.
Unless they are involved with mountain rescue, I cannot imagine anyone needing a torch that puts out more light than an LED of this output combined with a suitable lens.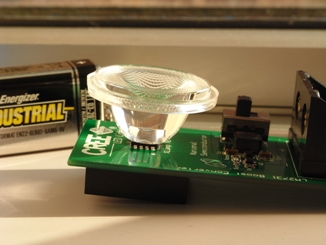 The MC-E/Eva (medium) combination easily lights a garden enough to look for the dog, for example.
A couple of us had a go at working out a distance where accidentally shining the light at someone might dazzle them, but at least they wouldn't wince – and came up with 55m – so please add some dimmer settings if you are thinking about making a torch.
There would be a bit more about the narrow version of Eva, if I had not lost it in a pub while showing a caving friend what the combination could do – sorry Ledil. 
He was so impressed that he wants me to make him a caving head lamp, but I am not sure I can handle the responsibility of building a life-critical device.
'Alice'
Respond below, or to alice@electronicsweekly.com