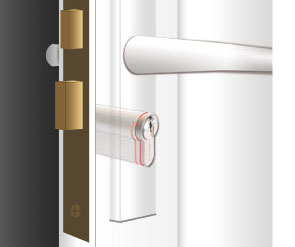 See all 'Engineer In Wonderland' posts
It turns out that I know nothing about locks. At least I didn't until last Friday when I resorted to Mr Google. And now I am worried.
I am building a door for a shed which I want to be secure, and got to the what-shape-hole-do-I-need-for-the-lock bit.
So I went to a couple of DIY stores and came back without a lock, and knowing that I have never really thought through the subject before.
Hence Google.
With apologies to those who have known this all their lives, this is what I learned: – The worrying bits are at the bottom
What ever lock I chose has to include a 'deadlock' as deadlocks can only ever be opened with a key.
A sash lock includes a deadlock, but also a spring-loaded bolt and a handle so the door stays shut on a windy day but can be opened with the handle when not deadlocked.
A rim lock sits on the back of a door, and a mortise lock fits inside the thickness of the door.
'Keyed-alike' means several locks that are open by the same key.
The sort of locks used on uPVC doors that run all the way up and down are called 'multi-point'.
I realise this is all pretty simple, but such was the depth of my ignorance.
Rim locks tend to have small 'Yale'-style keys – except for the cheap-and-nasty two and three ones.
Mortise locks tend to have big 'traditional' keys, except those with 'Euro cylinders' – which are harder to get. uPVC doors frequently have Euro cylinder multi-point mortise locks.
I have three doors to cover, so I was rapidly coming to the conclusion that three keyed-alike Euro cylinder mortise locks would solve all my problems…
….when I came across 'snapping' and 'bumping', both of which mean a 12 year old can get into your house in two seconds – literally.
The snapping vulnerability is unique to Euro cylinders.
If much of the cylinder is left sticking out of the door, someone can get hold of the end with an adjustable spanner and twist the cylinder back and forth until it breaks.
The cylinder's natural shape means it breaks in just the right place to neatly fall out leaving a hole through which a screwdriver can operate the lock.
I am not helping criminals learn new tricks here, this information is all over the Internet.
Almost all locks with 'Yale'-style keys, including Euro cylinders and almost every front door in the land, are vulnerable to bumping. A special key – available over the Internet – with a pattern of ramps cut into it is inserted into the lock.
Tapping the back of the key with something solid, with slight rotational pressure on the key, causes the internal cylinders to jump up and down, then stick in just the right place for the lock to open.
The good news for me is that, thanks to the web trawl, I now know what to buy – three keyed-alike BS3621 five-lever mortise locks.
The bad news is that my front and back doors both have Euro cylinders and nowhere to fit a mortise lock.
So 12 year olds have two different techniques available should they wish to burgle the house, but they will need a sledge hammer to get into the shed.

Foot notes to the interested:
Anti-bump anti-snap Euro cylinders are available, for example Squire Snapsafe (pictured) and Mul-T-Lock Break Secure, although once the anti-snap feature has operated, they look very vulnerable to conventional picking.
There is a anti-bump oil called Pick Buster.
UK-based ERA makes 'Vectis': a five-lever traditional key replacement for Euro cylinder multi-point uPVC door locks.
'Alice'
Respond below, or to alice@electronicsweekly.com