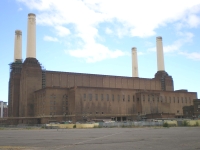 Battersea power station in London, with its chimney at each corner, is an icon – not least for having made it onto the cover of Pink Floyd's Animals album and having been designed by Sir Giles Gilbert Scott – he of red telephone box fame.
There are plenty of other reasons to love the place, including a rather fine art-deco interior and it once having been part of a large CHP (combined heat and power) scheme that heated a housing development on the other side of the Thames.
But an odd thing is going down at the site, which has been derelict for years and is prime building land.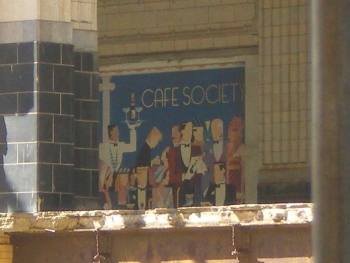 The main building is well worth saving as is has two beautifully decorated cathedral-like spaces solidly built in brick – it is the biggest brick building in Europe.
However, those famous chimneys have to come down. They are fatally riddled with cracks – the result of an incomplete understanding of reinforced concrete when they were built.
Here comes the madness:
The building is Listed, and the protectors of such structures are insisting that the chimneys be rebuilt as they were – in thousands of tonnes of reinforced concrete.
Surely, it would be simpler to replace them with something else, such as steel towers clad to look like chimneys – after all, steel framing is exactly how the brick part of the building is supported, no one is going to want to put flue gasses up there again, and clad steel appears to be good enough for the Statue of Liberty.
Or leave them off all together as happened at Bankside power station, also by Scott and now the Tate Modern.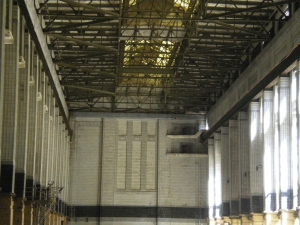 The Battersea site's current owner plans to erect a huge wide structure with an enormous tower next to the power station anyway, which will dwarf the power station and blot its chimneys from the skyline.
Incidentally, this tower is a bit strange in itself.
It is supposed to be a self-cooling eco-tower, but I notice from the plans that it is still connected to the National Grid and, by barge, it will need to be supplied with mysterious non-food-crop bio-fuel from unspecified sources – presumably from the huge un-touched forests of Oxfordshire*.
And an eco-tower sits slightly strangely against the vast amount of CO2 embodied in re-built concrete chimneys.
'Alice'
* Just for the record, there are no un-touched forests in Oxfordshire, or anywhere else along the Thames.
Reply below, or email alice@electronicsweekly.com
Photo Credits:
interior: Caroline Cattini
exterior: Emma Makins
Art deco detail: Emma Makins