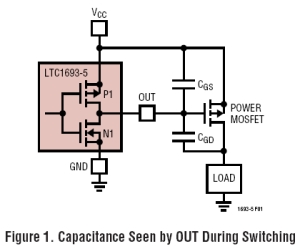 See all 'Engineer In Wonderland' posts
Have you ever had the feeling that you are the first person ever to want a certain building block?
There are a lot of different half-bridge mosfet drivers in the world, but almost all are designed to drive two n-mosfets.
This means that the top mosfet's gate drive comes from a bootstrap circuit, which in turn means the half-bridge can never operate at 100% duty cycle.
I want 0-100% to build a bit of test gear, and so have been hunting for a half-bridge driver that will drive a p-channel mosfet at the top, and an n-channel below – at voltages from 4 to 20V, from a logic input.
 
The answer doesn't even have to be combined p and n drivers as I have a microcontroller that can separately time the n and p control signals.
Note:
The Linear Tech LTC1693 (pictured) nearly perfect, but only works up to 13.2V.
The Nat Semi LM5111-4 is close, but tops out at 14V.
The Zetex ZXGD3002 works up to 20V, but needs an input signal up to Vcc.
Anyone know any chips, or a discrete circuit, that hits the spot?
'Alice'
Please respond below, or email alice@electronicsweekly.com