I was pondering a simple way with a low drop-out voltage to power a grounded LED from a grounded supercapacitor. Something that would be tolerant of the LED being powered from elsewhere when the capacitor is empty.
The easiest option is to use a resistor, but this will mean brightness is dependent on capacitor voltage.
A complicated way, which could deliver maximum efficiency and maximum power extraction, is to implement a buck/boost converter.
The LTC3454 1A LED Driver from Linear Tech looks pretty suitable .
More investigation would be needed to see if it can take volts on its output when there is a huge capacitor on the input.
The following would be one way to implement a linear solution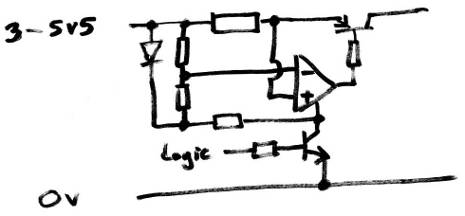 However, the op amp choice is a little tricky – the inputs must include the positive rail in their common mode range, and the output needs to get near the positive rail too.
In ancient times, there were op amps with p-fet inputs that were completely happy working up to 0.1V above the positive rail.
However, these were +/-15V parts.
So my question is, is there an op amp that includes the positive rail in its input common mode range, that will run from 3V to 5.5V single rail?
By the way, I claim it is cheating to just specify a rail-to-rail part.
An alternative to this would be the rather neat two transistor circuit that uses different current through two transistor emitters to sense a small voltage across a low value resistor to do the current measurement, with another transistor to modulate the current accordingly.
Sadly, right now I cannot remember how the circuit goes. In this case AFAIK it would need two pnps to measure, a larger pnp to modulate, and an npn to link the two. 
And also by the way, the Fairchild FPF2165 load switch seems to completely fit the bill from a different direction.
From the data sheet:
When the switch current reaches the current limit, the parts operate in a constant-current mode to prohibit excessive currents from causing damage….
For the FPF2163 and FPF2164, if the constant current condition still persists after 30ms, these parts will shut off the switch….
The FPF2165 will not turn off after a current limit fault, but will rather remain in the constant current mode indefinitely. The minimum current limit is 150mA.
And, explicitly stated:
"Internally, current is prevented from flowing when the MOSFET is off and the output voltage is higher than the input voltage."
'Alice'
Should you feel the need, respond to alice@electronicsweekly.com with 'Constant current' in the title.
Please don't respond below as our spam blocking system doesn't work and the inbox is overwhelmed by all kinds of generous offers from all kinds of rather annoying people.
No email addresses are collected for marketing (or any other) purposes from responses to this blog. I will keep it that way for as long as possible.