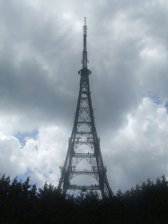 "The UK radio industry today launched a major cross-industry consumer initiative and marketing campaign – the Radio Amnesty – offering consumers a discount on a new digital radio in exchange for their analogue radio, which will be reconditioned and given to needy children in Africa."
 – Industry body Digital Radio UK.
                          WHAT????
 It has become a crime to have an analogue radio?
Don't get me wrong, I am a fan of DAB and wish the UK radio industry well.
I just don't think, given the huge installed base of FM radios, and their comparatively low power consumption, that switching off FM is a good idea.
The House of Lords, following broad consultation, seems to agree.
And is it just a bit cynical to link the 'amnesty' to needy children in Africa?
Do these needy children also need to keep on buying batteries?
If it suddenly has a problem with radio access for the poor, couldn't Digital Radio UK just team up with the Freeplay Foundation?
And, "analogue sets handed in will be donated to charities working in Southern Africa, or will be recycled", said Digital Radio UK.
Hmmm, I wonder how many will not make it to Africa.
The thing is, Digital Radio UK wants to get analogue-only radios out of the system because, by law, FM switch-off cannot be triggered until listening by DAB in the UK exceeds a certain proportion of all radio listening.
Still, if you want to buy a DAB radio now, you can get some discount if you trade in an analogue radio.
Although Digital Radio UK spokesman Tony Moretta, who knows the industry well, predicted in April that DAB radio prices would continue to fall.
So it is a bit of a gamble:
Buy now and get discount
Buy later if Digital Radio UK is right and prices will fall.
Buy later and find prices have increased because FM is about to be switched off and radio listeners are panicking.
The "Radio Amnesty" was developed by the BBC and Digital Radio UK.
Discounts will be offered on selected models from Alba, Bush, MagicBox, Panasonic, Philips, Proline, PURE, Roberts and Sony.
Participating retailers include Argos, Comet, John Lewis and Tesco.
The scheme will run from 22nd May to 26th June 2010
EW has been running a poll (scroll down) on analogue radio switch off, and currently 57% of those that voted said they were against switch-off
'Alice'
Photo is of Crystal Palace mast, by Matt From London, published under a flickr Creative Commons attribution licence.
Respond below.
No email addresses are collected for marketing purposes from responses to this blog. I will keep it that way for as long as possible.