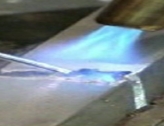 Apart from school, and two weeks at college on a course, I have no idea how to use a lathe.
But over Christmas I found a few days to lock myself away with a small one and gradually made a pile of parts for my Mark V bike light.
I suspect the tolerances I achieved would make a toolmaker giggle, but I was proud that the bits fitted together at all.
This weekend I attempted to solder them together using special aluminium solder from Durafix.
To see what an expert can do, take a look at the videos on the site.
I have used it once before and, then, it worked really rather well.
However, that time I had a welder looking over my shoulder.
This time, on attempt one I could not get enough heat to make the EasyWeld flow.
So I borrowed a bigger blowlamp.
The welding material ran freely, all seemed to be going well, then the whole assembly began to collapsed like chocolate in front of a fire.
Oh well……
I am sure it will not take quite so long to make the parts again….
'Alice'
reply below, or to alice@electronicsweekly.com