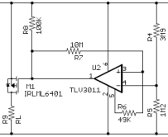 From Pierre Mars of CAP-XX
Just responding to your comment in the blog An Engineer in Wonderland – Energy harvesting and supercapacitors.
You are quite right, the final circuit would need 2 x MAX9015, you can't use both op amps in the dual version MAX9107.
Since then I have done some more work…
The Perpetuum microgenerator can supply current into a short circuit.
It is more efficient to charge a supercapacitor from 0V using short cct current if the energy harvester can do this (such as microgenerators or solar cells) and not worry about peak power tracking.
All you need is over-voltage protection for the supercap.
I have attached a circuit from a presentation I gave at IDTechEx Europe this year which covers this.

Note that I use shunt regulators for over voltage protection for simplicity, since once the supercap is fully charged, any energy delivered by the energy harvesting source must be discarded.
Cheers – Pierre
V-p applications engineering
CAP-XX
NSW Australia
Respond below if you wish.
No email addresses are collected for marketing purposes from responses to this blog. I will keep it that way for as long as possible.