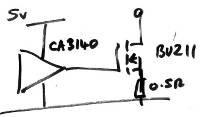 As a temporary measure, I am knocking together a power supply for my LED ceiling.
The idea is to check-out the choice of brightness levels and the power circuit before I go the whole hog and make a microcontroller version.
I need to control 0-1A through an opamp and some sort of transistor, and the parts bin has yielded a CA3140 and a BUZ11 mosfet.
As the whole thing needs to run off 5V max (as microcontrollers will not run off much more than this) and I am a little worried that the venerable 3140 is not going to be able to deliver enough volts to turn the mosfet on, particularly as the mosfet has an 0.5R source resistor for current sensing.
The 3140 is a remarkable little beast for its age.
Its p-fet input stage (with a 1T? input impedance!!) allows it to work with inputs above and below the negative rail, it will run from 4-36V single supply, and the output is designed to sink down close to the negative rail.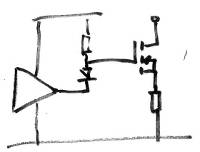 The fly in the ointment for me is that the output uses an npn emitter follower to source current and will therefore not get anywhere near the 5V rail.
I am hoping a resistor between the output and rail will increase drive sufficiently, maybe with a diode (pictured) if the output gets confused by the resistor.
If this fails, there is already a TIP34 pnp bipolar attached to the heatsink from an earlier project and, in what will be a first for me, I might just try a Sziklai pair (aka, complementary Darlington) – at the expense of base current getting into the sensing resistor.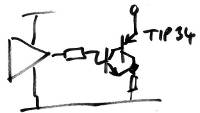 This is quite an attractive idea, and modern as well as old, because IGBTs are essentially Sziklai pairs with the input npn replaced by a n-mosfet.
If that turns out instead to be a bad idea, there are some ancient 2N3055s lurking in a draw with which I can knock together a Darlington pair, although hole drilling will be required to mount the hallowed TO3 packages.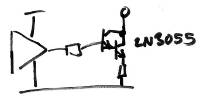 Then there is the further option of two voltage rails, 12V for the opamp and the BUZ11, further dropped to 5V for the microcontroller.
BTW, the great Bob Pease has a terrific video covering current sinks which, with his usual brilliance, has incredible precision and temperature compensation from a handful of components.
Can't wait to get into the workshop.
'Alice'