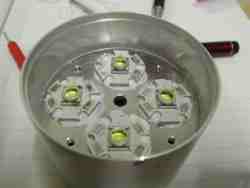 Three nights in a freezing shed, and finally an LED light sits on the front of a bike at Alice Towers. Following the over-heating disaster, I chickened out of soldering the re-made parts of the Mk V together and this time glued them with Arctic Alumina Adhesive.
Cree provided the XR-E leds to Electronics Weekly as samples pre-mounted on hexagonal boards. They arrived quite a while ago so they are P4 grade (80.6-87.4 lm at 350mA). The brightest grade available at the moment is R2 flux bin which can deliver over 114 lm 350mA.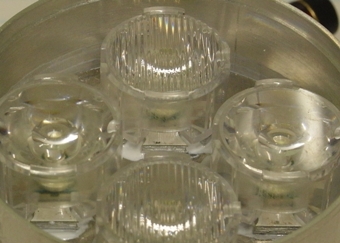 The lenses are 20mm collimators from Carclo, a combination of two +/-8° and two +/-8×47° elliptical beam types.
A note to all those who have not played with power leds yet.
When you do, don't look straight at them when you turn them on – particularly don't look straight down the barrel of a collimator.
If you do, you will certainly be seeing spots for a long time and eye damage is possible.
I heard – although I cannot trace the source right now so it may not be fact – that the eye pupil contracts as though incoming light has a solar spectrum, but white leds light have proportionately a lot more blue. This means even if the pupil does close far enough to render the light not dazzling, damaging levels of blue can still be reaching the retina.
Anyway, back to testing.
Unexpected snow turned all horizontal surfaces white as I was finishing the prototype, and since then those same surfaces have been soaking wet and way too reflective for realistic comparisons with the Mk IV.
That said, an initial ride or two suggest there is plenty of light, although the elliptical beam – intended as a 'dip' – is too wide.
One of the reason for making the unit so big is to allow the clip-in collimators to be swapped, so four +/-8° types are on the cards.
By the way, the Mk IV has Lumileds Luxeon I and Luxeon III leds and a mixture of Fraen collimators and a pair of 30mm +/-3° types that US torch maker Elektrolumens used to distribute.
'Alice'
Respond below, or to alice@electronicsweekly.com