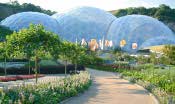 A few years ago I went to the Eden Project in Cornwall.
It is a huge garden with enormous geodesic greenhouses (the largest in the world) in an old quarry.
It is great, go there, take the kids
However, for a place which wraps itself in the 'green' flag, it does consume a lot of stand-by power – several kW in fact.
Why?
Well, like most old quarries, it would quite like to have a lake in the bottom.
On average, according to the Project, "20,000 bathfuls" of water per day naturally flow into the quarry and need to be got rid of.
One report puts this at 22.71 litres per second, which multiplies up to two million litres – 2,000 tonnes – per day.
This makes a bathful equal to 100 litres, which sounds about right.
This is pumped out electrically.
Scratching around on various mapping sites, I reckon the bottom of the quarry is at 46m altitude and that its lip is at 84m. From here it is all downhill to the sea.
Potential energy gain for 22.71 litre of water up 38m = m.g.h = 8, 466J every second – 8.5kW.
Plus a bit for pumping losses.
For the sake of argument, lets say the place really does have a green ethos and would like not to waste all this power – which would not have been consumed if the quarry had been left abandoned.
How do you shift 2,000 tonnes of water for nothing?
Well, a separate renewable energy resource would do it, and the site's operators have asked permission to install a 2MW wind turbine, which should sort out the problem.
But is there a less-obtrusive way to engineer away the 8kW?
I can think of two: a tunnel, or some form of syphon.
A tunnel would be in keeping with Cornish tradition.
After all, Cornwall once led the world in mine draining technology and exported engineers all over the world.
Local tin and copper mines were drained to the sea through 'adits' – horizontal tunnels cut through the rock.
The longest of these, known as the Great County Adit, is said to extend to Redruth and be around 60km long.
More map browsing, and I estimate that a horizontal tunnel from the bottom of the pit would only have to be 1.2km long to emerge on the down-slope towards the sea.
Sadly, I suspect this option is too expensive.
And anyway, all the Cornish miners who could have dug such a tunnel without raising a sweat have long since retired.
Which leads me to a syphon.
Obviously a standard syphon would be no use as water boils if you attempt to syphon it over any obstacle higher than 10m.
My bright idea – and I am prepared to be shot down in flames here – is to pump the water up from 38 to 84m electrically, then use the water falling from 84m to the sea to power the pump.
The pipe would not even have to go the whole 3.5km to the sea, but only far enough below 38m altitude to overcome inefficiencies in the system.
Anything beyond this would deliver a net power gain.
The pump and the first KM of suitable pipe is already there in the drainage system – so the incremental engineering cost is cut to less than 2.5km of similar pipe, plus a turbine and some wire to take the power back.
Am I wrong here, or is this not a bad idea?
'Alice'
Reply below, or to alice@electronicsweekly.com