Always nice to see a thoughtful piece of design, wherever you find it.
I came across another neat tin-opener this weekend – the first was the classic P-38.
This one seems to be designed with safety in mind as it cuts through the thick part of the rim and at the same time rolls away the sharp edges – my photo sadly doesn't really do the result justice.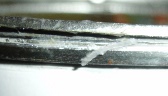 While I wouldn't run my fingers along the resulting edges deliberately, they are nothing like as sharp as edges left by openers I have come across before.
'Alice'
If you wish, scroll down to respond.
No email addresses are collected for marketing purposes from responses to this blog.
I will keep it that way for as long as possible.