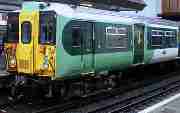 Got stuck on a train in the snow a week or so ago
The driver was great.
He told us exactly what the problem was, and exactly what he was going to do about it, and then he did it.
The problem was that the live rail was icy and the pick-up could not get enough power.
With limited power, the train could not get up the slight hill it was trying to climb.
So we waited for the proper contact to be made, and then moved forwards a few metres.
This process was repeated for half an hour or so until we reached the top of the gradient, and all was well after that.
Part way up, the driver re-booted the whole train, just in case its traction control algorithms were not available to the trains systems.
I didn't even know trains had traction control algorithms.
Anyway, there were a few other tribulations before journey's end, which our host also coped with.
I was so impressed with our calm and capable driver that I walked up and thanked him when I alighted.
Two things struck me while we were inching (centimetreing?) up that hill. 
First, just how efficient trains are, as resistance to movement seemed almost entirely to be dominated by mass and gravity, rather than friction and velocity.
Second, what a shame the current pick-up does not have an ice remover – a scraper or rotating brush?
Now I am curious.
Are there winter puck-ups?
Did the train have them?
If not, are they impossible?
Are they too expensive?
Anyone know any answers?
'Alice'
Photo with thanks to Elsie esq. 
If you can answer this, respond below, or to alice@electronicsweekly.
No email addresses are collected for marketing purposes from responses to this blog.
I will keep it that way for as long as possible.