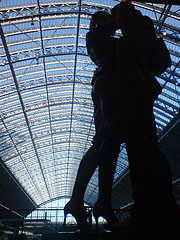 I used to leave from Waterloo, and it was always a bit of an embarrassment when returning from Paris or Brussels as the mighty train dropped from 180mph in continental Europe to about 20mph as it bumped and clattered across Kent and crept into London.
Incidentally, I am told that the power electronics in Eurostar has its roots in the UK's Advanced Passenger Train – That ill-fated train which ultimately failed because the ultra-light drive mechanics that allowed it to run fast on standard rails was a technological step too far for its gearbox oil and drive shafts.
Allegedly, the APT had another successful spin-off – its tilting mechanism may be the one used in the Alstom-built Pendolinos that ply the West Coast mainline.
If anyone can confirm or disprove the above 'facts', I would be interested.  
Anyway, Eurostar now flies across Kent and Essex through beautiful countryside on High Speed 1 – the magnificently engineered infrastructure formerly known as the Channel Tunnel Rail Link.
Its bridges, tunnels and retaining walls have that solid concrete built-to-last look that the Continentals are so good at, and that I suspect would have swelled the hearts of British Victorian railway engineers.
And I hadn't realised that there is an impressive 19km tunnel – half the length of the channel tunnel – taking the train at close to full speed under the built up parts of East London. Plus there is a viaduct over the Medway, a tunnel under the North Downs and another tunnel under the Thames.
Added together, a quarter of the route from North Kent into London is underground.
Lastly, just outside St Pancras, there are a lot more solid-looking cuttings and tunnels that will apparently allow other train lines access to the fast track leading East.
So with all this wonderful stuff, where is the disappointment.
It is with the extension to St Pancras station that allows it to accept Eurostar trains, which are far longer than the steam trains it was designed to house.
There is no doubt architects and engineers did a grand job of cleaning up St Pancras and making it better – including moving an entire underground station half a mile so passengers no longer have to trudge through the rainy streets of London from the 'nearby' Thames Link portal.
St Pancras' brickwork has been cleaned and the massive (214x75x30m high) roof – the largest covered space in the world when it was built in 1886 – has been renovated.
But the extension to the roof is absolutely awful.
It is a low flat-roofed structure that looks someone has dumped a DIY store on the back of the Victorian masterpiece.
Which seems to be roughly what has happened – except it is in concrete rather than steel sheet.
Even something like the glass 'caterpillar' that housed Eurostar at Waterloo would have been preferable.
Maybe money was tight, but was it simply that Sir Norman Foster wanted to be different and couldn't bear just to extend the original Barlow-designed St Pancras roof with a modern copy?
I hope not, as the guy normally makes an attractive job of whatever he touches – the Millau Bridge for example.
Still, the nasty new roof is the only blot I could see on a rail link that is
a, British and
b, Brilliant.
'Alice'
(Picture – victoriapeckham, under Creative Commons Attribution Licence)