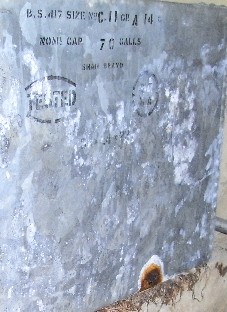 Little did I know when I was uncharacteristically thorough a couple of months ago and inspected my cold water tank that a world of new materials would be unveiled.
It turned out to be rusted all the way through at one point – if yours is anything like 50 years old, check it tonight.
If you find a patch of rust on the outside, don't even touch it with your fingers.
Once mine was drained, I easily pushed a screwdriver through. There was no metal at all.
Anyway, as the previous owner was a confident – but sadly talentless – amateur electrician, I had already grovelled in ancient glass fibres too many times.
As I didn't want to inhale any more of the hazardous stuff, and the plumber could not make it for a few days, I decided to completely clean out the existing 50mm of decayed glass-based insulation.
The alternative was to be lazy and temporarily cover the insulation up, but I got over that temptation in about three seconds.
What an awful job.
But hours of double-bagging and Dysoning paid off and I had a safe, beautifully clean, workspace.
I even had time to screw some boards down between the hatch and the tank before the great day.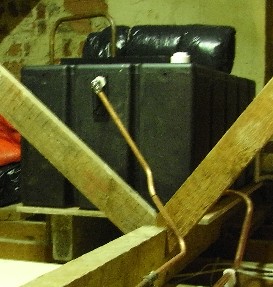 After all that preparation, the whole tank change-over went like clockwork and not even one foot went through the ceiling.
The new tank seems to be made of polythene and comes with a close fitting lid as well as its own insulation and a kit of parts to keep creepy-crawlies out.
For insulation, I discovered Eco- Wool polyester (yes, it's fire proof). It is made from recycled from drinks bottles and looks a lot like sleeping bag filling.
I put down 300mm of the stuff, which has yet to happen in the photo.
Polyester fluff has the same insulating properties as mineral wool, with the bonus that it is non-itchy, it releases no hazardous floating fibres, and it makes the whole place look like a snow-scene from a Christmas card.
200mm Eco-Wool insulation is actually 2x100mm layers which meant I could split it and put one layer between the 100mm rafters, then unroll the full 200mm thickness over the top at right angles.
The plumbing now looks set for the next 50 years and the loft is a nicer, safer, place to be.
Job well done I feel.
By the way, polyester is more expensive than mineral wool, and it is tough stuff to cut to length – I eventually gave up with scissors and shears, and resorted to hacking with a Stanley knife on a block of wood. It took ages – do you know a way to do this properly?
Priced between Eco-Wool and plain mineral wool, there is Knauf Space Blanket which is mineral wool pre-wrapped in Mylar film.
If you are rich and very eco-conscious, another alternative seems to be sheep wool.
I got my insulation from B&Q, where from time to time it is available at half price because, I believe, the big energy companies are required to subsidise energy saving.
'Alice'
Respond below, or to alice@electronicsweekly.com