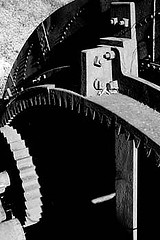 And, the main wheel axle can now stay still, simplifying its bearing arrangement.
There is also the cunning paddle arrangement of French physicist Poncelet.
He took a huge step away from any-flat-plank-will-do paddles and introduced a brestshot wheel with a curved blade/bucket design that took almost all of the kinetic energy out of the water that struck it.
I rate this alongside the Pelton wheel – a high-pressure high-speed water wheel invented in California in Victorian times.
The spoon-shaped blades of Pelton's design cunningly reverse the flow of impinging water. Once the wheel is moving at its design velocity, water exits the blades stationary, having given up over 90 per cent of its energy to the shaft.
On a cycling trip in California, I was lucky enough to come across one of the first Pelton wheels, a huge one in Grass Valley, which is where I learned that they were invented in the region.
'Alice'  alice@electronicsweekly.com
See also:
http://www.strollingguides.co.uk/workshop/darkroom/galleries/
http://www.wheal-martyn.com/historical.html
(Picture – 'Gear2_Big Otter Mill_1#9B4F' by ellievanhoutte, under the Creative Commons Attribution licence)