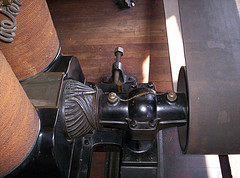 They quantify charge and are proportional to the number of electrons shifted, and not too difficult to visualise as electrons are real little round things.
In a circuit they are being pushed up a gradient against their natural tendency to stay still, if you get my meaning.
Coulombs get an outing in CΔV=IT, that particularly handy formula for sizing reservoir and de-coupling capacitors.
Now, I do occasionally wrestle with LΔI=VT when picking inductors for switching converters.
And I know this equation is equal to volt.seconds.
But the trouble starts if I have to visualise volt.seconds as they are far too abstract.
Can anybody help?
Alice (special contributor)
By the way, the title An Engineer in Wonderland was inspired by the 1967 book 'The Engineer in Wonderland' by Professor Eric Laithwaite: champion of the linear induction motor, and a man who certainly knew his volt.seconds.
(Picture – wackyvorlon, under Creative Commons Attribution Licence)