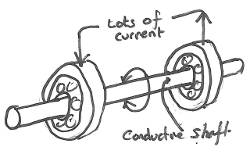 I had my nose in a book about motors (again), and came across something I don't remember seeing before.
It consists of a couple of ball bearings and a shaft.
You put heaps of current through the shaft via the bearing outers, give the shaft a flick, and off it spins – or so the book says.
It claims thermal effects are responsible for the continuous rotation, but I feel an electromagnetic explanation is more likely.
'Alice'
If you respond below, our spam-blocking system may throw away your comment.
Better email alice@electronicsweekly.com with 'Bearing motor' in the title.
No email addresses are collected for marketing (or any other) purposes from responses to this blog. I will keep it that way for as long as possible.