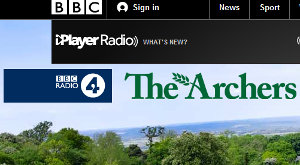 Possibly as part of its plan to cease analogue transmissions as the Corporation would like to stop paying to transmit programmes over FM, and only send them out over DAB.
A few years ago, the House of Commons wrote a rather rubbish report to say the BBC could switch off FM once some rather iffy DAB listening thresholds were crossed.
By the way, the House of Lords wrote a far more thoughtful report on the same subject and came to a different and better-reasoned conclusion.
Don't get me wrong here, I own a DAB radio and listen to it, as well as several analogue FM radios.
However, there are strong arguments against analogue radio switch-off which may be stronger than BBC budgetary concerns, and did not apply to analogue TV switch-off.
Anyway, of loyal BBC listeners, surely there can be none so loyal as Archers Fans.
And Archers Fans are mostly analogue listeners – how inconvenient.
A bit of background for the uninitiated is that:
The Archers is a Radio 4 (FM and DAB) soap opera that has been running for decades.
It has a recent spin-off called Ambridge Extra, on a DAB-only channel called Radio 4 Extra – possibly spun-off in an earlier attempt to mine that rich vein of loyal Archers listeners on behalf of DAB.
An even earlier attempt to mine the Radio 4 audience was when DAB-only Radio 7 was rebranded as Radio 4 Extra. And the BBC was part of the laughable 'Radio Amnesty'.
In the Archers (FM and DAB), a particular story line has been building up for months between three characters (Matt, Lillian and Paul for the initiated), and it finally came to a head recently.
But the denouement was not played out on The Archers (Radio 4, so FM and DAB).
Oh no, the denouement was transmitted in DAB-only Ambridge Extra.
Is there another way to view this other than a cynical attempt to move Archers Fans over to DAB listening?
The message from the BBC appears to be:
Buy a DAB radio Archers Fans, or you will miss the best bits of some of your stories. (And once you have a shiny new DAB receiver, why not listen to the Archers on that and throw away that nasty old FM radio – we need to cross that DAB listening threshold…)
On Radio 4 comment programme Feedback, the excellent Roger Bolton quizzed Jeremy Howe (Radio 4 and 4 Extra commissioning editor) on the betrayal of so many loyal listeners.
And Howe didn't even say 'mea culpa'.
Instead, he said many things, in a clear authoritative voice, that weren't even vaguely plausible.
Heaven knows who he thought would believe him.
The BBC used to be built integrity, not spin.
And, don't get me started on the dumping of Material World…..