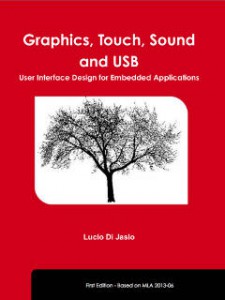 It is called 'Graphics, Touch, Sound and USB: User Interface Design for Embedded Applications', and uses practical examples.
So, if you want to know about interfacing complex perpherals to microcontrollers, this could be the one for you – but do check it meets your needs before you buy. The table of contents is here.
BTW, it is not an introduction to embedded or C programming
Required software is Microchip's  MPLAB X development environment, and the XC16 or XC32 compiler.
Hands-on projects are based around the Mikroelektronika PIC24 Mikromedia board, which has to be bought seprately.
"Porting of all the projects and examples to the PIC24EP Mikromedia and PIC32 Mikromedia are available as well. PIC32 Mikromedia Plus support is in development," says the author – Lucio Di Jasio, who works for Microchip and has written other books on the microcontrollers.
Di Jasio aims to introduce more advanced PIC peripherals, such as USB, and complex libraries like those in the Microchip Library of Applications.
Projects include:
Interfacing to TFT colour graphics displays
Detecting and decoding touch screen inputs
Adding sound for audible feedback
Handling multiple fonts and images
Storing and retrieving data from serial flash devices and micro-SD cards
"By learning how to leverage two USB classes in particular, HID and CDC, you will avoid most of the USB unnecessary complexity and get straight to address the two most common use cases in embedded control," said Di Jassio.
Price is £28.96, with a £23.17 introductory offer (from $49.50 and $39.50) from the Lulu.com print-on-demand service.
If you get a copy, please type a few words of review in the reply box below.