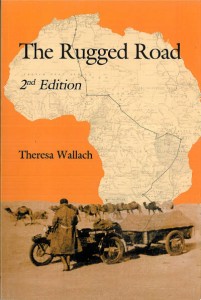 Theresa Wallach studied mechanical engineering at University College London and went on to be a design engineer.
A competition motorcycle rider both on and off road, she befriended fellow motor racer Florence Blenkiron, and the two of them cooked up a plan to ride from London to Cape Town.
Told it was too dangerous, particularly for women, they did it anyway – setting off in December 1934 on a motorcycle and sidecar pulling a trailer filled with fuel and water.
At the time, there were no roads across the Sahara, and weeks were spent dragging the bike from oasis to oasis.
Wallach and Blenkiron are two of only three women ever to be awarded a Brooklands Gold Star, for riding around the notoriously bumpy pre-war racing circuit at over 100mph.
According to the book, the other woman to get a Gold Star was Beatrice Shilling…
…who happens to aeronautical engineer Dr Tilly Schilling (BSc electrical engineering, MSc mechanical engineering, Manchester; PhD Surrey) who invented the RAE restrictor – better known as Miss Shilling's Orifice – while she was the Royal Aircraft Establishment at Farnborough.
Early Spitfires had simple carburettors which would starve their Merlin engines of fuel during negative-g manoeuvers. Pilots of German planes, with their fully-aerobatic fuel-injected engines, had an inherent advantage.
The restrictor was a plate with a hole in it that could be fitted into the carburettors to prevent fuel rushing the wrong way.
While not a complete solution, it was quick to roll-out and gave the aeroplanes short-term negative-g capability. Later a completely aerobatic carburettor was developed.
A quick mention should go to Barry Jones, who persuaded Wallach to turn her notes into a manuscript and finished The Rugged Road after her death, without spoiling her delightfully light-footed writing style.