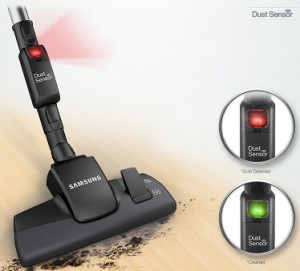 Samsung's VC21F50UKGC vacuum cleaner has a dust detector that indicates if there is much dust going up the pipe – to alert the user they are over a particularly dusty bit.
What an nice idea, and..
.. I wonder how that works?
My initial guess was capacitive – looking at the dielectric constant of the air and dust between two plates.
But that seems a little fussy and complicated to keep calibrated.
Leading to second guess – optical, either transmissive or reflective – much easier to calibrate (and no flow-induced static build-up) – if it could be kept clean enough.
Anyone know?