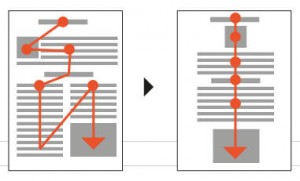 Not for books, but for data sheets.
Not a tablet or anything else that has to be charged every day or it might be flat when it is needeed, but a proper E Ink eReader that will also for a month or so on a charge.
For various reasons, I almost took the plunge at the weekend, but luckily I had a last minute google for pdf reading capability and found out that my favoured device, the Kobo Glo, is poor at displaying pdfs.
I had assumed it would be as good at this format as it is at displaying proper ebook formats – at which it is excellent.
But no, it is apparently sluggish and navigation around a pdf page is poor, even compared with other '6inch' eReaders.
And I discovered that some eReaders not only move around pdf pages swiftly, but offer something called 'reflow' for better-than-normal pdf viewing.
Reflow involves taking off embedded pdf formatting to various degrees.
In some cased this means throwing away the diagrams (in reflow mode only) and turning the text into variable width paragraphs like in normal ebooks.
In the case of Bookeen's Cybook Odyssey HD FrontLight (snappy name that), it means doing it very well and reassembling the page as one long 'tall' strip: text, diagrams, and everything – see the Bookeen diagram at the top of this page.
Frustratingly, the Odyssey has somewhat clunky controls for use in landscape mode – where the necessary zooming menu remains in portrait mode, sideways up the side of the landscape pdf.
Sony also makes eReaders with pdf reflow – and it alleged to have a 13inch reader in the pipeline.
By the way, Kobo was my choice rather than Kindle because Kobo can read ePub format – used for free ebooks (for when the eReader is not on pdf duty) – which Kindle cannot. A Nook would be another good choice as a general eReader, particularly as Nooks are easy to root so you can run Android apps on them.
Here is a step-by-step guide of how to end up with something called 'Perfect Viewer PDF' onto a Nook.
By the way, rooting is risky and de-guarantees your reader even when it works – don't blame me if it all goes horribly wrong if you try it and you turn your device into rubbish.
For more information, this website seems to pay attention to pdfs on eReaders