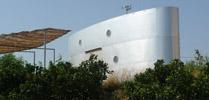 Anyway, when savvy architects get together with imaginative engineers, wonderful stuff can emerge.
Take a look at this interesting idea for a home that can be delivered on a lorry.
That said, and what do I know, I feel a bit of a curve around the top would be nice.
La Machine Home is completely pre-fabricated off-site, and has a lot in common with a mobile home.
The inside is beautifully done in wood.
I wonder if the roof leaks…