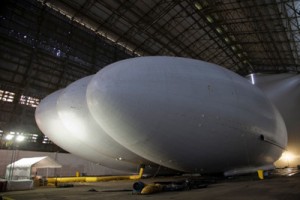 Why shout?
Because the R101 might well have been the longest airship, but the R100 – which didn't crash – was the most technically advanced.
The marvelous R100 was unsuccessful because the airship genre got a bad name after the R101 and other airships crashed and burst into flames, or just burst into flames.
Barnes Wallace, who went on to invent the bouncing bomb, designed the R100, and Nevil Shute Norway, who went on to be Nevil Shute the author, worked on the R100 under Wallace.
Wallace's used geodesic construction in the R100, and went on to use it in his later aircraft designs including the Wellington bomber which could famously take huge amounts of damage and still fly home.
A last minute bodge on the R101, according to Shute in his book Slide Rule (an excellent engineering history and worth a read) was to extend it (making it the longest at that time) to get enough lift to haul its over-budget weight into the air – it crashed by failing to make it over a hill in France. There were also problems with the R101's skin, according to Shute.
At this point, I have to add that "in terms of lifting efficiency, both [R100 and R101] were inferior to the smaller LZ 127 Graf Zeppelin", according to Wikipedia's R100 entry.
Shute went on to start his own aircraft company – Airspeed – which made thousands of planes in the 1930s, before writing for a living.
Evan Davis was introducing a story about a brand new airship, being assembled in one of the vast Cardington Hangars (in which R101 was assembled), that combines lighter-than-air consteuction and aerodynamic lift to, hopefully, shift large amounts materials to places without airstrips.
Made by Hybrid Air Vehicles, and called Airlander, it is based on knowledge from a series of modern airships – made by a series of connected companies that sadly seldom flourished.
Lift comes from a wing cross-section, formed by making the vehicle, effectively, from two or three normal airships merged in parallel.
Good luck Airlander