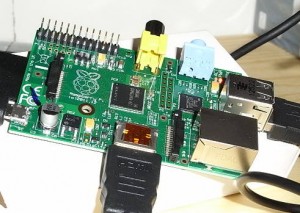 It was so with the two 5V USB power adapters that both only offered 500mA instead of the 700mA needed to get the Electronics Weekly Raspberry Pi started – so much peering through impregnable plastic packaging in shops to find one that would definitely do the business – I got a 1A one from Robert Dyas eventually.
And so it was with SD Cards, so I had to hunt for ones that were definitely Class 4 or better – I have given up with un-branded SD Cards.
And I didn't have an HDMI cable, but struggled to find one that was not gold plated, artistically coloured, sophisticatedly shaped, and supplied in a presentation case that would make the Koh-i-Noor diamond look shabby.
Of course, not being tight-fisted would have helped.
And then I had to rush out again because my borrowed USB mouse turned out to be broken.
Many hours later….
The new way of installing Raspberry Pi software, called NOOBS, is absolutely excellent.
Gone is the laborious SD Card disc image creation procedure with its special software, and in its place is New Out Of Box Software which you unzip and simply copy onto a 4G SD Card.
With NOOBS, the first time you turn on the Pi a choice of operating systems automatically pops up on your display and you simply pick one and the Pi does the rest.
I have to say, the first time I tried to load Raspbian, using the option that opens up as much of the Card as possible, it seemed to hang. So I started again without that option and all was well – though I still to work out how to tell the machine I have a HD monitor.
The revelation was Raspbmc.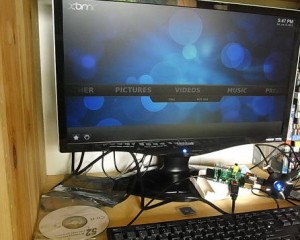 On a second SD Card I loaded the same NOOBS package, and selected the Raspbmc media player option.
This got the screen resolution right first time (see my rather poor photo) and immediately it knew what to do with a USB flash stick full of music that I plugged in.
Nicest of all, my monitor (a ViewSonic VX2260wm), takes the audio from the HDMI cable and offers it in analogue form through a 3.5mm jack for external speakers, so I got a nice big sound from the Raspberry Pi immediately.
I also tried two audio players with the Raspbian desktop, both of which worked well, though the interface was nothing like as nice at with Raspbmc – and Raspbmc is supposed to work with remote controls, including remote control apps on iPhones and Android phones – now, where did I put all that spare time…
By the way, a powered USB hub was also nowhere to be found in the junk box. However, an un-powered one seems to work when used only to support a simple (no bells and whistles) keyboard and mouse. There was a USB drive directly in the RasPi.