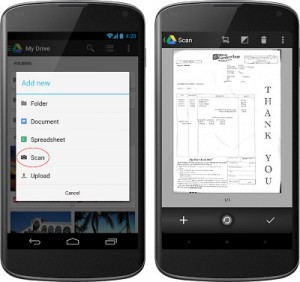 Bascially Google Drive lets you store all your files in one place (on Google servers), so you can access them online from anywhere with a Net connection, and also share them, whether photos, documents, videos or other files.
For me, the standout new feature is OCR support (pictured right). Specifically, enabling you to scan receipts (or bills or other bits of information you receive while out and about) and store them in a searchable format. Good, in these financially straightened times, for keeping close track of expenditure…
Google writes:
Simply click "Scan" from the Add New menu, snap a photo of your document, and Drive will turn the document into a PDF that's stored for safekeeping. And because Drive can recognize text in scanned documents using Optical Character Recognition (OCR) technology, a simple search will retrieve the scanned document later. No more frantic scrambling through drawers looking for a receipt or digging through your pockets to find that business card — just scan, upload and search in Drive.
The UI has been improved, too, so you can adjust font types and sizes for a spreadsheet and tweak cell text colours and alignments. Drive files are also now displayed card-style, enabling you to swipe between them to preview content. Storing some content locally will also be available by selecting "download a copy" from the actions menu inside settings.
There's also "Cloud Print" support so you can print anything from Drive with a "Cloud Ready" printer…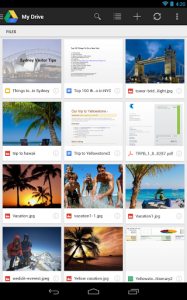 The full list of new features, according to Google:
A grid view to make it easier to find files
A quick preview of photos and other files from within the app
Scan and store documents and receipts and search the contents once uploaded
Download a copy of files to your local device (Honeycomb+)
Spreadsheet editor now supports changing fonts, colours and cell alignment
View properties of files from within the editors
Bug fixes and "visual improvements"
It requires Android 2.1 and up, and the app currently has a rating of 4.3 on Google Play.
You can read more on the Official Android Blog – A smoother Drive app for Android
They write:
The process of creating and accessing your stuff shouldn't be, well…a process. Today, the Drive app for Android is getting several improvements to make creating and accessing your stuff on-the-go even easier. To help you find the content you care about, Drive files will now be displayed in a clean, simple card-style. You can swipe between files to see large previews that let you quickly review and discover the information you're looking for. And if you want to keep some Drive files on your Android device, you'll now be able to "download a copy" from the actions menu inside settings.
A selection of user comments:
Did Google drive just become everything I want it to be? It now supports both real download and in app view of pics. If they now can only make a pc software that can select any folder or network drive I'm a happy hamster.

Still need to be able to edit offline documents. If it was able to I would finally be able to get rid of evernote and have one cloud storage and note taking app. Much better app after recent update though.

Love the latest features added! The challenge is that not all of the features are working properly. Scanning in a document is great…but then you can't rename it & have that change sync out properly? I feel like a beta tester…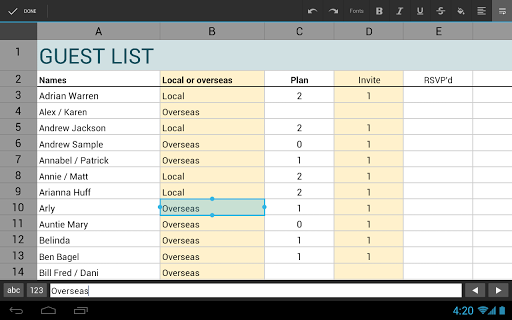 Previous Android Applications in Focus: