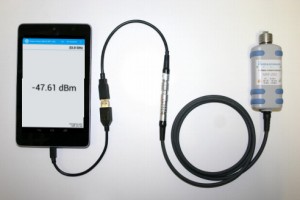 Functionality includes: Continuous power measurement and display of the results in dBm, dB-relative, or W; Frequency selection; Automatic and manual averaging; Power offset; Zeroing; and S-parameter activation.
The company writes:
The NRP-Z power sensor's USB interface makes it very convenient to connect the sensor directly to a mobile PC. This is an attractive alternative to the operation with an NRP2 base unit. To support Windows-based portable computers such as laptops to display and analyze the data, NRP-Z sensors have been shipped with the R&S Power Viewer program since the first sensor was released. The more advanced, and still free-of-charge, R&S Power Viewer Plus Windows program is also available to download.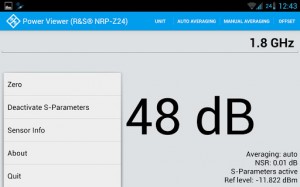 The free app requires Android 4.0 (Ice Cream Sandwich) or later, and requirements for using the app are:
R&S NRP-Zxx Power Sensor
R&S NRP-Z3/-Z4 USB adapter
Device runs Android 4.0 or higher
USB-OTG adapter cable
A screenshot is shown, right.
Supported R&S NRP-Z Sensors:
Universal power sensors
Wideband power sensors
Thermal power sensors
Average power sensors
Supported features:
Continuous average mode
Absolute power measurements (in dBm or Watt)
Relative power measurements (in dB relative)
Averaging (manual and automatic)
Power offset
Zeroing
Activate/deactivate S-Parameter compensation, if loaded into your R&S NRP-Z
Display sensor information
You can read more in the Application Note »
It says the R&S NRP-Z family includes multiple power sensor types capable of mobile use from DC to 110 GHz and with levels ranging from -67 dBm to +45 dBm / 30 W. These
are:
R&S NRP-Z8x wideband power sensors
R&S NRP-Z5x thermal power sensors
R&S NRP-Z9x average power sensors
R&S NRP-Z11, R&S NRP-Z2x and R&S NRP-Z31 three-path diode sensors
R&S NRP-Z2xx two-path diode sensors
The app has been tested successfully on the following devices running Android 4.x:
Google Nexus 7
Samsung Galaxy S3
Sony Xperia P LT22i
HTC Desire X
Two important things to note:
* "This app depends on a working USB host (USB – On The Go) controller built into your device. Some smartphones block high-power USB devices. In this case only the thermal power sensors will work. For usage hints refer to application note 1MA215 available at rohde-schwarz.com or your local site."
* "Connecting an R&S NRP-Z power sensor to the USB port of your Android device will drain your battery regardless whether this app is active or not. Make sure to disconnect the power sensor whenever not in use."
[Image: A NRP-Z52 thermal power sensor connected via a NRP-Z4 adapter cable (middle) and an USB-OTG adapter cable (left) to an Android tablet.]
Previous Android Applications in Focus: