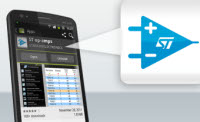 ST is turning to an Android smartphone app to present its op-amp product portfolio. ST op-amps is the application in question…
Basically, it enables you to select appropriate operational amplifiers, comparators, high speed amplifiers for your electronics application using the product selector.
The company says the application "focuses only on op-amp design, providing direct access to needed information". It is actually ST's second Android app, joining "Dual EE" RF memory reader for NFC smartphones.
"With reference schematics and guides built in, ST op-amps provide an intuitive, mobile design assistant accessible at any time or place," writes ST."Touch-sensitive menus and scrollable pages make navigation through the application simple and take full advantage of the smartphone or tablet multi-touch user interface. Unlike similar apps by other manufacturers, ST op-amps is focused only on design with op-amps and is not dependent on an Internet connection, since much of the functionality is native to the app. This approach enables engineers to find the information they need quickly and easily, and, when an Internet connection does exist, also provides a link to the ST website for further information as required."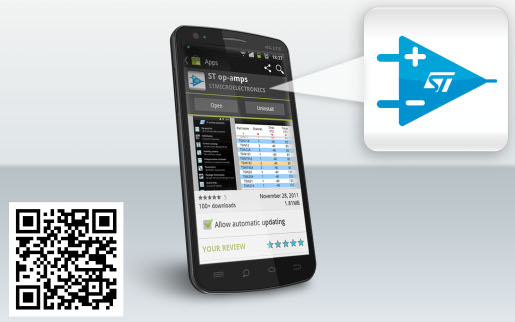 Key app features:
·        Browse op-amps, comparators and current-sensing products
·        Touch to select design guidance on:
·        Current-sensing
·        Compensation
·        Stability criteria
·        Op-amp parameters
·        See possible schematics for popular functions
·        Calculate external component values
·        View package mechanical information
·        Download datasheets
The "ST op-amps" app is available for free from the Google Play Store (where it currently has an average rating of 4.8 out of 5).
Previous Android Applications in Focus: