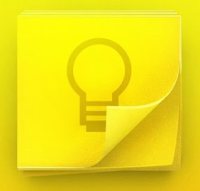 On the Android Official Blog they write:
If it's more convenient to speak than to type that's fine – Keep transcribes voice memos for you automatically. There's super-fast search to find what you're looking for and when you're finished with a note you can archive or delete it.
Changing priorities isn't a problem: just open Keep on your Android phone or tablet (there's a widget so you can have Keep front and center all the time) and drag your notes around to reflect what matters. You can choose the colour for each note too.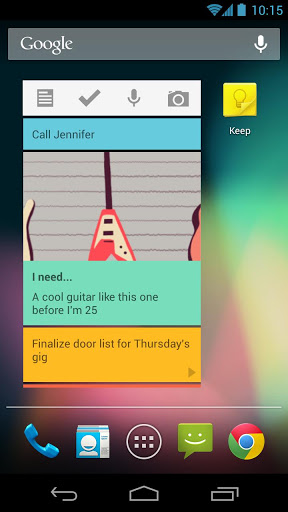 Features highlighted by Google on the Play store include:
• Keep track of your thoughts via notes, lists and photos
• Have voice notes transcribed automatically
• Use homescreen widgets to capture thoughts quickly
• Colour-code your notes to help find them later
• Swipe to archive things you no longer need
• Turn a note into a checklist by adding checkboxes
• Use your notes from anywhere – they are safely stored in the cloud and available on the web at http://drive.google.com/keep
The notes are stored in Google Drive and thus synced to all your other machines.
For the minority lucky enough to have an Android 4.2 device (Jelly Bean II) there's a lock screen widget version, for adding thoughts quickly without unlocking the phone.
It's current Average Rating is 4.5 on Google Play.
Previous Android Applications in Focus: