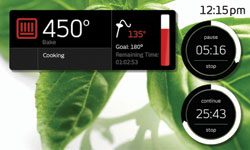 Android is getting embedded in more and more places, beyond the expected phone or tablet. For example, in set-top boxes, cameras, fitness machines, or – newly unveiled at CES – Nvidia gaming consoles… Now, add ovens to the list! The Dacor Discovery IQ Wall Oven, to be precise, featuring an integrated Android tablet running on a Samsung processor.
Basically, the company has upgraded its existing UI, on high-end ovens, to take advantage of Android via a built-in display. Check out this report, from Dan Farber, on CNet.com – Dacor bakes Android tablet into wall oven
He writes:
The Discovery IQ Controller for Android replaces the old-fashioned, limited touch-screen. The Android app allows for remote operation, alerts and includes a pre-programmed guide for preparing dishes. When a dish is ready to serve, the app notifies the cook via an alert. If the oven is acting up, the app sends out an alert with an error message, as well as an automated report to the manufacturer for troubleshooting.
Dacor writes:
With the Discovery IQ Controller, home chefs can expect the latest technological advances for the kitchen running on the Android OS platform. Powered by a Samsung 1GHz Processor and 512MB DDR2 RAM, the built-in controller is exclusive to Discovery Series Wall Ovens. The controller rounds out with complete Wi-Fi connection capability and is equipped with stereo sound and a PowerVR SGX 540 graphics processing until delivering an exciting multimedia experience through a 7″ LCD glass touch screen panel.

The graphic user interface (GUI) is easy to use and is the most recent collaboration from Dacor and BMW Group DesignworksUSA, an international leader in design strategy, premium design development, and brand communication. With the built-in Discovery IQ Controller home chefs can access the Dacor Discovery IQ Cooking Application and Guide while simultaneously downloading other popular applications through the Google Play Store, researching new recipes or viewing cooking video demonstrations wirelessly through a home Wi-Fi network.
They're not cheap – pricing starts from $4,499…