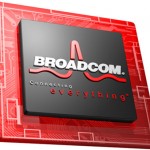 The big focus for chip suppliers seems to be the lower end 4G LTE smartphones, in the £130-£180 price range. Just as the £110 Moto G from Motorola, now owned by Lenovo, is the 'first' low end 3G smartphone.
But sub-£200 LTE smartphones will be a tough one to crack. Broadcom's play is a LTE platform which is interchangeable between a dual-core M320 or an upcoming quad-core M340 system-on-chip (SoC) devices.
"With complete design reuse between dual-core and quad-core basebands, OEMs can develop multiple devices with the same platform design while lowering engineering costs and accelerating time to market," said Broadcom.
This is a big push by Broadcom to take a strong position in the affordable LTE smartphone market. The silicon is carrier ready, supporting Category 4 (Cat 4) speeds in FDD-LTE and TD-LTE modes. Cat 4 150Mbit/s LTE speeds in FDD-LTE and TD-LTE modes and up to 42Mbit/s with DC-HSPA+ 3G as well as GSM/EDGE.
Broadcom's M320 LTE SoC is in production and the supplier will be at the upcoming Mobile World Congress show in Barcelona, February 24-27.
Richard Wilson