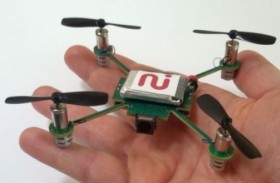 Thanks to Sue P. for flagging this rather startling item – a miniature helicopter that can stream video directly to your Android device, the MeCam. The idea is to "point-and-shoot yourself", videographically speaking (although it would also be a snooper's delight).
Android Community has highlighted the voice-controlled mini-marvel that it says runs on a 1.5 GHz Cortex-A9 processor, has 1GB of RAM, supports micro-SD for storage, and uses Wi-Fi and Bluetooth for comms…
Always Innovating is the company behind the "nano copter" and while the device is nominally priced at $49, the company doesn't do individual sales – it is looking for others to license it:
Though the MeCam is still in development, the device and its core module are available for licensing. It comes with an optimized hardware design and a fully Open Source software solution based on Linux. Always Innovating has also patented some of its innovations. Any licensing agreement comes with the Always Innovating IP umbrella.
Check it out (briefly) in the company promo video below.
" width="510" height="287" frameborder="0">