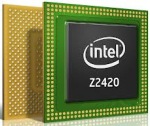 One to watch out for at the forthcoming Mobile World Congress. It seems Intel will be showing off Android devices running on new dual core, dual graphics chips…
According to the Intel media release, outlining the schedule for its MWC booth:
Specifically, Intel will showcase its latest smartphone technologies and devices running the Android platform, including a new dual core, dual graphics platform, as well as OEM- and service provider-supported devices based on the company's new Intel Atom Z2420 platform targeted at emerging markets.
That's all there is to go on at the moment, but any Intel-based Android devices, running on an x86 not ARM architecture, will be sure to garner a lot of attention…
The show begins 25 February in Barcelona.
Where are we currently with Intel and Android?
Intel did partner with Motorola on the (Ice Cream Sandwich, 2 GHz Intel Atom Z2460-based) Razr i smartphone last year, and also the (Jelly Bean II, dual-core 1. 8 GHz Atom Z2580-based) K900 with Lenovo, but the Intel and Android combo has yet to make any significant waves.
There is also Intel's Jelly Bean x86 Emulator System, but this seems largely to support creating Android Native Development-based apps (where elements of the runtime are platform optimised) – letting you test your apps on a virtual Intel Architecture-based device – rather than a full x86 implementation of Android…
The Android-x86 Project has also been a long running attempt to get Android running on x86 platforms, and has generated many releases (even if Google has not always played ball).
We shall see…
[Via TechCrunch]