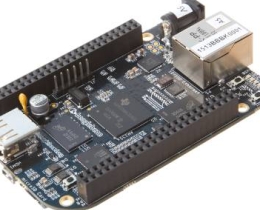 Texas Instruments has announced a new version of its Sitara-based BeagleBoard development system – the .
It runs on TI's Sitara AM335x chip and the mini computer includes 2Gbyte of on-board storage. What makes it of interest for Eyes on Android is that it can run Android (with an ARM 8 core, it has an ARMv7 archicture).
The "Rowboat" project enables Android on TI Sitara ARM Cortex-A processors, and you can . (It can also run Ubuntu and Angstrom Linux.)
The latest release of the TI Android DevKit provides Android Jelly Bean 4.1.2 distribution for TI's Sitara(TM) AM335x ARM Cortex(TM) A8 Processors. The Development Kit provides pre-built images for the AM335x Starter Kit, AM335x EVM and BeagleBone that include Android default apps, multimedia files, RowboPerf performance and benchmarking utilities to help with evaluation and prototyping. It also includes Android source code with pre-integrated POWERVR(TM) SGX 3D graphics accelerator drivers, TI hardware abstraction for Audio, WLAN & Bluetooth for TI WL1271 chipset, USB mass storage and more. In addition to these, this package also includes debug and development tools like prebuilt ARM GCC tool chain, TI CCSv5, ADT plugins, etc. to enable an Android developer to easily build custom Android solutions for non-phone market segments.
Back to the BeagleBone Black…
"For $45, it includes all the necessary components in the box to connect a display, keyboard and network, providing a lower total cost of ownership than the nearest competitor and allowing for immediate development," said TI in the announcement

"Sitara AM335x processor enhances the user experience by enabling an advanced graphical user interface and more than 2x higher performance than ARM11-based solutions."
That last point is a dig reference to the Raspberry Pi, which has an ARM11 core…
Note: The Accessory Development Kit (ADK) is a reference implementation for hardware manufacturers and hobbyists to use as a starting point for building accessories for Android. The ADK 2012 is actually based on the Arduino open source platform (a rival to BeagleBone and Raspberry Pi), but with some hardware and software extensions that allow it to communicate specifically with Android devices – see Build Android accessories with Cortex-M3 based Arduino Due.