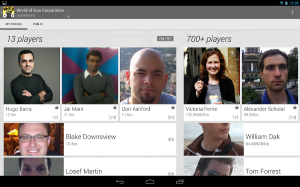 You can read more on the Google Developers Blog, in a post by Greg Hartrell, Lead Product Manager at Google, he writes:
Today, we're launching Google Play game services, a core part of building a gaming platform for the next generation of games. These services help you make your games more social, with achievements, leaderboards, and multiplayer, as well as more powerful, storing game saves and settings in the cloud. They are available on Android, and many on iOS or any other connected device. By building on Google's strengths in mobile and cloud services, you can focus on what you're good at as game developers: creating great gaming experiences for your users.
Game services that are highlighted include:
Achievements, designed to increase engagement and promote different styles of play.
Social and public leaderboards (pictured) that use Google+ circles to track high scores both across friends and across the world.
Cloud saves that provide a streamlined storage API to store game saves and settings.
Real-time multiplayer for addition of cooperative or competitive game play on Android devices. Using Google+ Circles, a game can have up to 4 simultaneous friends or auto-matched players in a game session together with support for additional players coming soon.
Pictured is an example Google Play game leaderboard (apparently Hugo Barra – Google mobile supremo – is at number one for World of Goo. Wonder if he pulled rank for that?) And here's a graphic showing the launch titles available.