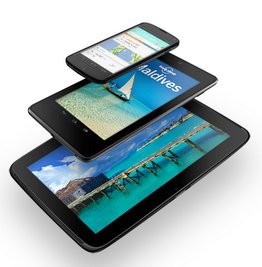 The devices feature extended roles for Google Play (majoring on cloud storage of your music collection) and an updated version of Google Now, the company's answer to Apple's Siri. The new version of Android can also support multi-user accounts, good for household sharing and separation.
There is also an interesting new 4.2 Camera app, Photo Sphere (see video below), which is designed to let you create photos that are "richer and more immersive".
Hugo Barra writes:
Photo Spheres make you feel like you're really there. When you're snapping a photo sphere, you can move in every direction, you can look up, you can look down, every detail from the original scene is just there.Photo Spheres are stored as JPEG files, and all of the information required to view them is embedded as open XML metadata in the image itself. So you can email them, post them to Google+, put them in Google+ photo albums.
Update: Not to overlook (which I initially did) support for video streaming to secondary displays (via Miracast):
"Android 4.2 also adds support for wireless display so you can wirelessly watch movies, YouTube videos and play games right on your Miracast-compatible HDTV." 
Nexus 4
The Nexus 4 is a smartphone developed with LG. Available – with 8GB storage for $299 and 16GB for $349 – unlocked and without a contract on November 13 on the Google Play store in the U.S., U.K., Australia, France, Germany, Spain and Canada. The 16GB version will also be available through T-Mobile for $199, with a 2-year contract.
Nexus 7
The Nexus 7 – manufacturer unspecified – is a phablet supporting HSPA+ mobile ($299), which "can operate on more than 200 GSM providers worldwide". Available – with 16GB for $199 and 32GB for $249 – in the U.S., U.K., Australia, France, Germany, Spain, Canada and Japan.
Nexus 10
The Nexus 7 – manufactured by Samsung – is a 10inch "ultimate" tablet. Google boasts that it is "the highest resolution tablet on the planet" with a 10.055″ display at 2560-by-1600 (300ppi), which works out as more than 4 million pixels. They claim the battery supports up to nine hours of video playback and 500 hours of standby time. It includes a set of front-facing stereo speakers.
Google also highlights that it is the "first truly shareable tablet" – Android 4.2 supports multiple users and the ability to switch between them instantly from the lockscreen.
"We believe that everyone should have quick and easy access to their own stuff — email, apps, bookmarks, and more," says Google. "That way, everyone can have their own home screens, their own music, and even their own high scores."