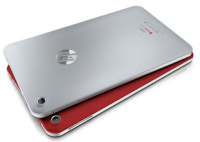 One for the record, from Mobile World Congress… It's being described as one in the eye for Microsoft, by BusinessInsider, and (rather cruelly) as just a flat beige box, by techcrunch…
What is it? The HP Slate 7, priced at $169 for the States, and which runs on Android, rather than Windows 8, a first for the company.
The entry-level seven inch tablet runs on Android 4.1 (Jelly Bean I) and is powered by an ARM Dual Core Cortex-A9 1.6 GHz processor, and features a 3-megapixel camera.
Also, a high-aperture-ratio Field Fringe Switching (HFFS) panel "offers wide viewing angles that provide easy viewing of documents, games, photos and videos–even in outdoor lighting conditions," says HP.
While Android is seen as the entry-level offering, Windows 8 is for heavy-weight, says HP. This is from the company's press release:
"To address the growing interest in tablets among consumers and businesses alike, HP will offer a range of form factors and leverage an array of operating systems," said Alberto Torres, senior vice president, Mobility Global Business Unit, HP. "Our new HP Slate7 on Android represents a compelling entry point for consumer tablets, while our ground-breaking, business-ready HP ElitePad on Windows 8 is ideal for enterprises and governments. Both deliver the service and support people expect from HP."