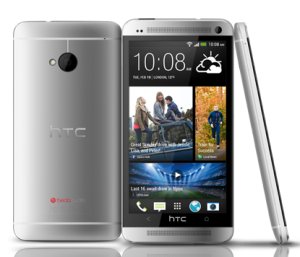 The new, revamped flagship HTC One Android smartphone has been unveiled at an event in New York, with the company describing it as "a new perspective on smartphones"…
"People today immerse themselves in a constant stream of updates, news and information. Although smartphones are one of the main ways we stay in touch with the people and information we care about, conventional designs have failed to keep pace with how people are actually using them," said Peter Chou, CEO of HTC Corporation. "A new, exciting approach to the smartphone is needed and with the new HTC One, we have re-imagined the mobile experience from the ground up to reflect this new reality."
Entertainment is the main theme…
For social networking, HTC BlinkFeed aggregates newest content, HTC Sense TV doubles the device as an interactive program guide and remote control for TVs, set-top boxes and receivers, and HTC BoomSound provides front-facing stereo speakers with a dedicated amplifier and a full HD display. "Beats Audio integration is enabled across the entire experience for rich, authentic sound whether you're listening to your favorite music, watching a YouTube video or playing a game."
Finally, for photography, HTC Zoe shoots high-res photos in three-second snippets. "These Zoes, photos and videos are then displayed in a unique way that brings the gallery to life and transforms the traditional photo gallery of still images into a motion gallery of memories."
The spec to support all this functionality? Powered by a quad-core 1.7GHz Qualcomm Snapdragon 600, it has a 4.7″ full HD (1080p) screen, 64GB of memory storage, supports Bluetooth 4.0 with aptX enabled, Wi-Fi 802.11 a/ac/b/g/n, and a 2.1 MP camera with HDR video. For networks, there is HSPA/WCDMA (Europe/Asia: 850/900/1900/2100 MHz) and GSM/GPRS/EDGE (850/900/1800/1900 MHz).
Sensors? Gyro sensor, Accelerometer, Proximity sensor, and Ambient light sensor.
It runs on "Jelly Bean" but it is not clear whether that is I or II (i.e. Android v4.1 or 4.2).
Full details of the phone spec »
It will be available globally at the beginning of March.