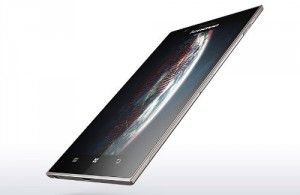 Well, two phones feature design-ins for Intel's mobile chip – the Lenovo and ZTE devices are both debuting in China, with the Lenovo one shipping internationally later.
Firstly, Lenovo's K900 phablet (pictured) features a Clover Trail+ processor and is about to make its consumer entrance.
Engadget's Darren Murph writes:
The 5.5-inch powerhouse will ship with a dual-core Atom Z2580 CPU (2.0GHz) within, a PowerVR SGX 544MP2 GPU, a 1080p IPS panel slipped behind a coating of Gorilla Glass 2 and a 13 megapixel camera. Despite the sizable display, it weighs just 162 grams and measures 6.9 millimeters thick, and should be available across greater China right now for RMB 3,299 (around $536) – or RMB 2,999 if you're lucky.
Secondly, the same website flags the appearance, coincidentally, of the ZTE Geek that features the same Clover Trail+ processor – the Atom Z2580.
Mariella Moon writes:
The phone's outfitted with Android (Jelly Bean), a 5-inch 1,080 x 720 pixel display, an 8-megapixel rear camera, a 1-megapixel front cam, 1GB of RAM and 8GB of storage space. Clearly, it's not the most tricked-out phone there is, but its price might entice people to try it out. The ZTE Geek will make an exclusive arrival at Jingdong Mall on July 25th, where it'll retail for ¥1,888 ($307).
Also, the Z2460 Atom featured in 'San Diego' phone from Orange, back in May 2012.
Before that, the Lenovo K800 was the first Android smartphone powered by an Atom processor (the Z2460 Medfield, to be precise, featuring an Imagination Technologies GPU).