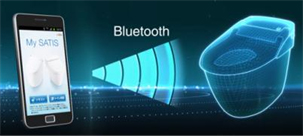 An off-the wall entry for a Friday afternoon… an Android controlled toilet (yes, it's from Japan).
According to TheVerge, the Satis is manufactured by Lixil and features Bluetooth comms to enable control by an Android app, "My Satis".
What can you do with the app? Apparently, you can flush, raise the toilet seat, and activate a bidet function…
Amar Toor writes:
The app could offer health benefits, as well, as its calendar feature lets users keep a running journal of their daily habits. Perhaps best of all is the fact that the toilet can recognize you via Bluetooth as you're approaching, and will adjust water pressure and other settings accordingly.
Due to be available this month, pricing starts from ¥199,500 (about £1,370). Intrigued? Check out the video below.